Our History
Marshall's Tavern was originally opened in 1903 by a couple with the last name Marshall.  Half of the building was a bar and the other half was a grocery store.
One of the owners, J.P. Marshall, was one of the original firefighters as well as being the first assistant fire chief.
In the 1950's firefighters were notified by siren or one of the ten main phones throughout the city – Marshall's Tavern being one of the central phones.
After that it became a steakhouse – and after that it became "Player's" – a local billiard parlor.
When it was purchased in November, 2015, there was no question about renaming it Marshall's.
Marshall's has always been a local saloon – a great local meeting place and hangout and we're looking for that to continue!
Pflugerville, TX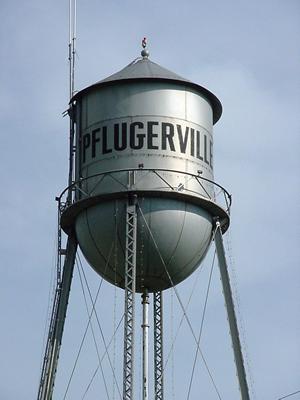 Pflugerville is on Farm Road 1825 fifteen miles north of Austin in northeastern Travis County. It was named for Henry Pfluger, born in 1803, who brought his family to the area from Germany in 1849.
A community did not develop at the site until after the Civil War.  Residents established a school in 1872 and a Lutheran church in 1875.

A post office opened at the community in 1893 with Louis Bohls as postmaster. By the mid-1890s Pflugerville had a population of 250. It also had a small assortment of businesses, though residents did their banking and shipping in Round Rock, eight miles northwest in Williamson County.
In 1904 the Missouri, Kansas and Texas line completed its track between Georgetown and Austin, passing just outside of Pflugerville and George Pfluger laid out a railroad center that grouped together cotton gins, churches, homes and mercantile structures into a 16-block grid.
Within ten years the Pflugerville population had doubled to 500. The Press, a weekly newspaper, was published at Pflugerville from 1907 to 1942. In the early 1920s several area school districts consolidated with the Pflugerville high school. The community's population declined after World War II as people moved to Austin and other cities; by 1949 the number of residents at Pflugerville had fallen to 380. Pflugerville began to grow slowly in the 1960s and at that time was incorporated. Its population rose to 452 by 1968 and to 662 by 1980.
The Pflugerville Pflag began publication in 1980. From 1980 through 1988 new development in Pflugerville made it the fastest-growing community in the state; its population estimates by the late 1980s were as high as 3,900. The sudden boom was slowed considerably by the recession of the late 1980s, but population estimates, reported at 4,444 in 1990, indicated that growth was continuing.
While Pflugerville continues to grow with an estimated population of 51,894 (US Census), it has not lost it's small town charm. In 2013, Pflugerville was ranked one of the Best Places to Live by Money Magazine.
Pflugerville history courtesy of City of Pflugerville History Collection and the Texas State Historical Association